Bioclimatic Pergola ARF 8002
The Bioclimatic Aluminum Pergola that we recommend to our customers is superior to others because it has the advantage of two autonomous movements through the control. The first move is to set the blinds to the desired position from 0 ° to 85 ° depending on your choice of sun position and wind direction. The second autonomous movement is that we open the aluminum blinds backwards 2/3 of the total opening.
With innovative products and essential technical advice, we find the most targeted solutions and the most effective ways for the optimal operation and application of our shading systems in your space.
| Maximum Length | 4m |
| --- | --- |
| Maximum Projection | 7,06m |
* 28 sqm is the maximum use area for a single system
MAXIMUM PROTECTION
SUN – WATER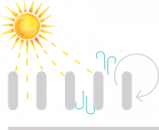 MAXIMUM OPENING
FOR THE PASS OF LIGHT AND AIR
Aluminum Pergola
• LED lighting
• Infrared heating
• Transmitter for Central Control
• Control Smartphone
• Temperature, Snow, Rain Sensor
Led Type: 5050 IP68 Waterproof LED Strip
Working Voltage: 12V DC
Light Angle: 120°
Power Consumption: 14.4W
Lighting Intensity: 1285 lm
Led Type: 5050 IP68 Waterproof RGB LED Strip
Working Voltage: 12V DC
Light Angle: 120°
Power Consumption: 14.4W
Lighting Intensity: 1285 lm