Bioclimatic Pergola
The Bioclimatic Aluminum Pergola that we recommend to our customers is superior to others
because it has the advantage of two autonomous movements through the control.
The first move is to set the blinds to the desired position from 0 ° to 85 ° depending on your choice of sun position and wind direction. The second autonomous movement is that we open the aluminum blinds backwards 2/3 of the total opening.
Bioclimatic Aluminum Pergola
MAXIMUM PROTECTION
SUN – WATER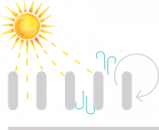 MAXIMUM OPENING
FOR THE PASS OF LIGHT AND AIR
| Maximum Length | 4m |
| --- | --- |
| Maximum Projection | 7,06m |
* 28 sqm is the maximum use area for a single system
For the design and proposed solutions for each pergola, our company has the possibility to visit your place in order to capture the dimensions of your choice and to suggest the possible solutions in terms of placement.
With innovative products and essential technical advice, we find the most targeted solutions and the most effective ways for the excellent operation and application of our shading systems in your space.