Bioclimatic Pergola
The aluminum pergola is characterized by the movable ones
blinds that create the desired climatic conditions.
The SRF 120N Bioclimatic Pergola operates with an independent selective movement. The same system provides the possibility of autonomous choice of movement of the blinds so that the adjustment is made from 0 ° to 85 ° depending on the conditions that the user wishes to prevail under the pergola.
The second choice of the user is if he wants the blinds to move to leave 2/3 of the pergola open. Are you looking for innovative shading products and practical solutions to improve and automate your home or business? Then Inox Nossis is the exhibition that you must visit and in which you will discover solutions for your every need.
MAXIMUM PROTECTION
SUN – WATER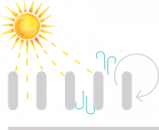 MAXIMUM OPENING
FOR THE PASS OF LIGHT AND AIR
Bioclimatic Aluminum Pergola
* 42 sqm is the maximum use area for a single system
Maximum Length(m): 6 m     Maximum Projection(m): 7 m